In the web hosting industry, HostGator is a household name. It is well-known for providing excellent hosting services as well as the millions of users and clients who rely entirely on HostGator to host their websites. This article is a comprehensive review of Gator, a powerful website builder offered by HostGator.
Gator is a wonderful option for folks who want to develop websites without having to learn difficult code and do so at a low cost. The performance, pricing, customer service, and primary features of Gator will be the subject of this article.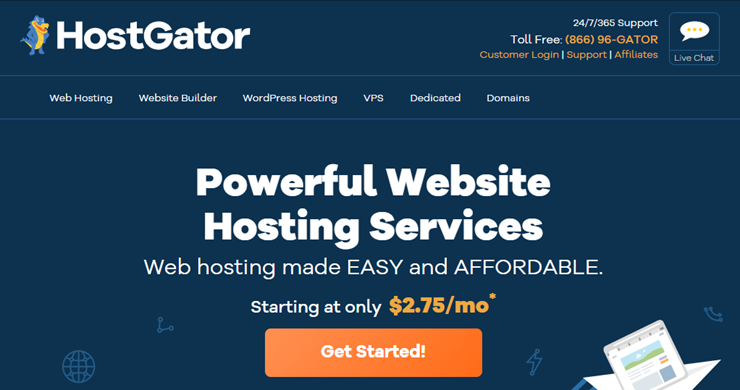 Gator Website Builder's Features
Gator's speed
Gator's performance is very well tuned, but when compared to the speed of other website builders, Gator is not as amazing.
If your website page has too many images, the pace may slow down, and you may discover that your high-quality photographs have been reduced significantly.
Gator's Performance
Gator is a capable player. It aids in the detection of all defects and positive aspects of a website. It will notify you when your website isn't working properly and needs to be fixed right away. It's almost as if this is a robot that knows everything ahead of time and informs us of specific emergencies that arise on the internet.
HostGator's website builder has a 100 percent uptime, which is really excellent for users. There are no moments when the uptime drops, which might cause consumers to become confused and irritated. The best thing is that whether you're using Gator website builder on a tablet or smartphone, it can be modified properly.
In comparison, the smartphone and tablet versions of Gator can be a little slow, which may test your patience for a while. This necessitates HostGator's improvement, and they must try to make the website builder more sturdy for smartphone and tablet customers.
Gator's Price
The prices of the plans offered under Gator are really cheap and affordable. There are plans for ever kind of user and they can choose it according to their budget and needs. There are three plans under Gator and those are mentioned below.
Starter – available at $3.85 per month
Premium– available at $5.99 per month
eCommerce– available at $9.22 per month
When you compare Gator to other popular website builders like Squarespace and Wix, it's evident that Gator is far less expensive. If you purchase Wix's basic plan, it will cost you $17.90 a month, while Squarespace will cost you $12 per month for a personal website and $18 for an ecommerce website. Gator provides all of these advantages at a lower cost than Wix and Squarespace.
You probably already know that Gator is the cheapest website builder on the market right now. It is, without a doubt, a professional-grade builder with reasonable performance, and you will receive good results for the money you spend on the Gator builder.
There are numerous free ready-to-use templates available, all of which include the drag-and-drop functionality. You have complete control over what you add and remove, as well as how you design your website. Editing also takes little time, and almost all of the options are simple to use.
However, when comparing the quality of Gator's templates to those supplied by Wix and Squarespace, they fall short. However, we can disregard this choice because Gator is five times less expensive than other website builders.
The editor, on the other hand, is fantastic, and there are no limitations while using it. You are free to utilize whichever elements you wish. It also includes a domain name for your website, as well as self-certification. Gator, on the other hand, will assist you in creating some professional websites at a reasonable cost.
Gator Shared Web-Hosting Plans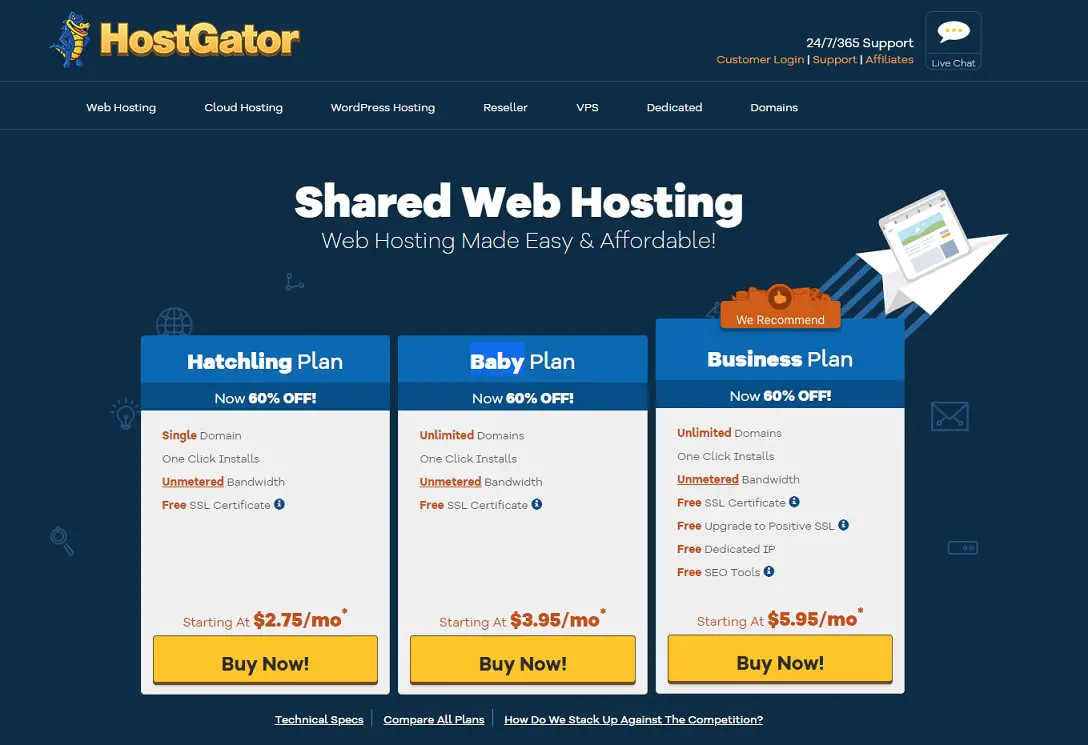 Hatchling Plan
The Hatchling designs have all of the necessary components, but they aren't particularly attractive. You can only host one website on this plan, but it includes unlimited bandwidth, free SSL certificates, and a free domain. A user will receive a restricted number of benefits with this plan. Two of the few perks include one-click WordPress installation and free WordPress/cPanel website migration. This is the greatest option if you're a beginner looking for a low-cost solution.
Baby Plan
This is HostGator's best shared web hosting plan in terms of both features and pricing. This plan is recognized as HostGator's best-shared web hosting plan for various reasons. This plan's most major benefit is that it allows you to host an unlimited number of websites. Aside from that, it contains all of the traits found in the Hatchling Plan. There are a number of other advantages to this method as well. HostGator also recommends this plan, which is perfect for novices.
Business Plan
This plan has a lot of features, however, the pricing is a little costly when compared to the other options. As a result, it is suggested that this strategy be used for business purposes. This plan is available to small businesses, and it is also available to individuals who plan to spend that much money. This plan includes all of the features of the Baby Plan, as well as additional benefits. Free SEO tools, a free dedicated IP, and a free upgrade to positive are just a few of the perks.
That's all there is to it. We hope you found the information given to be useful. Please leave a comment below and we will respond as soon as possible.